BRAMA, Oct 13, 2004, 9:00 am ET
---
Press release


Forte String Quartet at the Lyceum
Cultural Fund Event: The Forte String Quartet
Sunday, October 17, 2004 at 3:30 pm
The Forte String Quartet - Mikhail Kuchuk, violin, Alexander Abayev, violin, Roumi Petrova, viola and Kalin Ivanov, cello perform at
The Lyceum
201 S. Washington St.
Old Towne, Alexandria, VA
Suggested donation is $15, students free.
Presented by The Washington Group Cultural Fund in cooperation with the Embassy of Ukraine, as part of their 2004-2005 Music Series.
Contact Laryssa Courtney at 202-363-3964.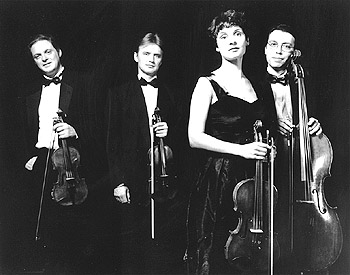 The Forte String Quartet (www.fortequartet.com)
Program
| | |
| --- | --- |
| L.V.Beethoven | String Quartet op.18, #4 in C Minor |
| M.Skoryk | Partite #6 for String Quartet |
| R.Petrova Rodopa | Suite for String Quartet op.9, #14 |
| A.Piazzolla | Seasons in Buenos Aires |
The Forte String Quartet, founded in 1990, consists of Mikhail Kuchuk, violin, Alexander Abayev, violin, Roumi Petrova, viola and Kalin Ivanov, cello. Their artistic portfolio includes a number of concert tours in England, France, Austria, Switzerland, Bulgaria, Greece and the US. They are recipients of a grant for extraordinary achievements from the Open Society Foundation.
The Forte String Quartets concert activities include chamber music concert series, single concerts, recordings and broadcasts for WNYC - New York Public Radio, Radio Voice of America, Radio Free Europe/Radio Liberty, WNYE Radio, New York, Bulgarian National Radio and Television. The quartet explores both the standard classic repertoire and contemporary music. They collaborate with other internationally renowned artists, extending the size of their ensemble.
During 2000 - 2002 The Forte String Quartet was Quartet in Residence with the Manhattan Virtuosi Chamber Orchestra. Since fall of 2002 the quartet is in residence at the Brooklyn Conservatory of Music.
The members of The Forte String Quartet are proud of their community work and educational programs. They have developed a series of educational concerts for public schools. The concerts, which are performed on a regular basis in the New York City area, are very well received by students and teachers. Another project of The Forte String Quartet is the musical Alex in Stringland, an experimental fusion of theater, live chamber music, demonstrations and lots of interaction with the audience.
The Forte String Quartet performs regularly in New York at the Weill Recital Hall, Bargemusic, Donnell Library, the Brooklyn Public Library, and Brooklyn Conservatory of Music - Faculty Series. Outside New York, The Forte String Quartet members also perform in Connecticut, Maine, Washington, D.C., Boston, Chicago and Europe. In May 2003 The Forte String Quartet released a new CD with music composed by quartet member Roumi Petrova.
The World Press
The perfect synchronization among the four musicians, their excellent technique, subordinated to extreme sensitiveness, raised them to the level of great artists.
- LE PROGRES, France
Bulgarian rhythms set Dennis Rooneys foot tapping at the Forte String Quartets ambitious program in Weill Recital hall.
- THE STRAD, Magazine, London/ New York
The concert held by The Forte String Quartet in Carnegie Hall turned to be a real revolution A thunderous applause greeted the young artists
- BRAVA ITALIA, Italy/USA
The 10th Anniversary concert of The Forte String Quartet at Carnegie Hall showed their highest professionalismA brilliant performance, result of many years of preparation, it proved the virtuosity of these young talents
- NEDELNIK, New York
The Forte String quartet showed a passion and virtuosity few string quartets could parallel.
- NEWS-BG, Bulgaria/USA
Weill recital Halls intimate acoustics allowed the quartet to offer an ensemble sonority in Elgars Introduction and Allegro.
- THE STRAD, Magazine, London/ New York
Accomplished musiciansexperts
- PARK SLOPE COURIER, New York